rentmas
The right machine. Anywhere. Anytime.
The construction sector is one of the few industries that still has to undergo the great wave of digitalization. Daniela and manuel niederstätter represent the new generation of entrepreneurs who are pioneering this digital transformation.
Both have their roots in a traditional family business that has been successfully renting out construction equipment throughout Italy for 45 years. As a result, they are familiar with the daily challenges of the industry, and created the online platform rentmas to tackle them.
The digital heart of rentmas is industry 4.0, which provides the necessary tools to make construction equipment rental intelligent and efficient. Using the data from our network of uploaded machines, many processes related to the rental and management of the related equipment can be automated and optimized. rentmas automatically determines the availability of machines based on historical usage patterns in the vicinity of the desired rental location. Click here to learn more about the benefits this has for you as a renter.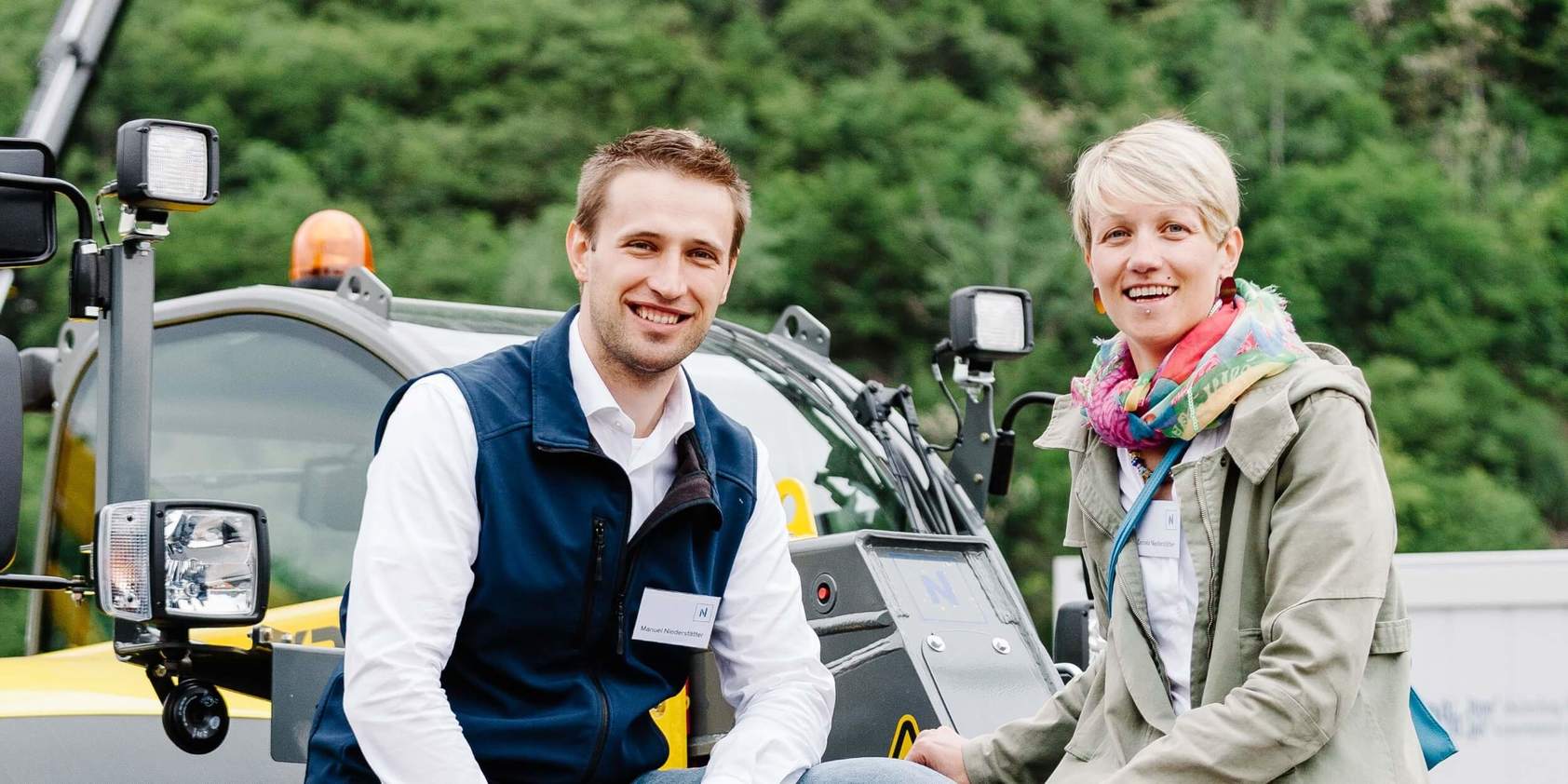 rentmas founders Daniela and Manuel Niederstätter
Our mission: to be wherever you need equipment! Straightforward, fast and transparent because we connect renters and providers.
Our vision: rentmas is an innovative player in the rental market. We bring machine owners, service providers and renters together — all under our umbrella of decades of experience and a talent for keeping processes simple and approachable.
What we stand for
Our values
Courage is the fuel that turns visions into reality. We have a clear vision and trajectory, and an unbreakable drive for progress.
We don't let ourselves get caught up in habits and routines of yesterday. We prefer to think outside the box.
Our motto speaks for itself: "The right machine. Anywhere. Anytime." We are devoted to delivering the best possible solution.
Planning, implementing, measuring, improving. a structured approach and continuous improvements optimize resources. Continuous improvement allows us to tailor our services exactly to the needs of our customers and partners.
Each rentmas team member gives 110% to deliver the best results for our customers and partners.
Being reliable builds trust within our own team, and forms a strong relationships with customers and partners.
The team is at the heart of everything we do. It is only together that we can achieve the extraordinary.
The rentmas team
Find out more about our team here.
Signup for the newsletter
The many joys of staying in touch
Our newsletter is the best way to follow what's going on at rentmas, including:
subscriber benefits and exclusive event invites
what's new in the digital rental sphere
tips, tricks, and insider knowledge from our experts
...and much more!